Minecraft is the hugely popular "sandbox" game in which players can wander around a virtual planet (with a virtual surface area eight times that of Earth!), mine minerals, harvest timber, and build things out of the resources they collect. Most players construct houses, gardens, paths, and walls, but some players make immense recreations of structures like the Notre Dame and the USS Enterprise, or build virtual computers and working GameBoys.
When I started playing Minecraft with my kids last year, I immediately thought of the Metaverse — the shared virtual reality system in Neal Stephenson's now-classic 1992 science fiction novel, Snow Crash. The Metaverse was a simulated universe where people could buy or rent virtual real estate and set up a business or a home-away-from-home, furnishing it with virtual goods that cost real money. "Minecraft is the first big step towards the Metaverse," I thought.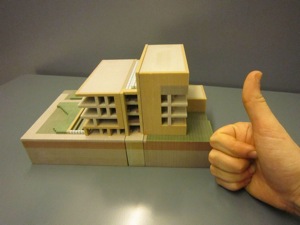 But, as is so often the case, reality is turning out to be stranger — and more interesting — than fiction. The Metaverse was about simulating reality in a virtual world, but Minecraft's future might be about converting virtual things into real things. Take a look at Minecraft.print, a project by Cody Sumter and Jason Boggess of MIT's Media Lab. They've developed a Python script that allows anyone to take objects that have been constructed in Minecraft and bring them into the real world via a 3D printer (see video above). Similarly, Eric Haines has written a program called Mineways that generates 3D files from Minecraft models so you can have them printed out by 3D printing service bureaus such as Shapeways. (Image on right is a model of the Ford Engineering Design Center modeled in Minecraft, converted with Mineways, and printed with a 3D printer).
The neat thing about this is Minecraft is a lot easier to use than most 3D design software. It doesn't take long to learn how to stack blocks in Minecraft. I can easily imagine the game becoming the basis for a 3D design program that feels like a game and allows collaborative design, and which generates models that can be made real with a 3D printer.

When I play Minecraft now, I imagine a large Dr. Seuss-like machine in an empty lot, scooping up dirt, spitting out bricks, and stacking them in the shape of my virtual house.
=======================================================================
Boing Boing is a pioneering blog that offers an eclectic blend of of tech culture, gadgets, entertainment, business, and more — a "geek's eye view" on the world. Original feature reporting from some of the most-respected technology writers today and original Boing Boing Video episodes have made Boing Boing an Internet mainstay. Mark Frauenfelder is founder of Boing Boing, editor at MAKE, and author of "Made by Hand: Searching for Meaning in a Throwaway World".